Deer Jewelry Rack Storage Display Stand Holder Antlers Designed Earrings Necklace Display Rack Jewelry Holders Hanging Organizer
Properties:
100% brand new and easy to use.
Made of plastic material, which is safe and durable.
Suitable for bracelet, necklace and earrings in shop.
Jewelry Organizer Necklace Earring Deer Stand Display Jewelry Holder Display Rack Display Key Charm Holder Storage Rack
Specification:
Condition: 100% Brand New
Item Type: Jewelry Display
Material: Plastic
Color: Pink , White
Size: As shown
Weight: approx 200g
Type: Jewelry Rack
Material: PC Plastic
Features:
Deer Tree Design, Jewelry Organizer, Durable
Size: 25cm x 14.5cm x 22.5cm / 9.84 "x 5.71" x 8.86 "(Approx.)
Beautiful tree hook / branches design. Multi-function selection suit your needs comfortably and perfectly.
Each branch on these tree-shaped hanger can be used to give each of your favorite necklaces, bracelets, and rings their own place when not in use.
And the dish at the bottom is great for wallet, cell phone, pen, cosmetics, etc.
With a fairly sturdy design you'll always have your jewelry organized, tangle-free, and ready to be worn.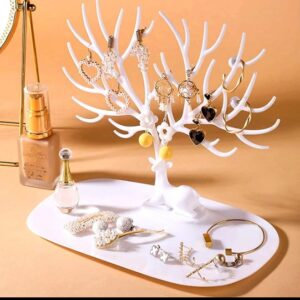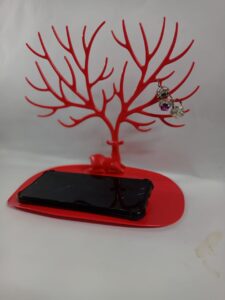 Additional information
Model:

27903

Weight:

250.00g

SKU:

14080

MPN:

27903

Location:

HCC-KHI

Categories: : Home & Lifestyle
Buy Now !
Generic Imported
Tags:
,
Baliyan
,
Bracelets
,
Earrings
,
Home and Lifestyle
,
Necklaces
,
Organizer
,
Rings
,
Stationery and Craft
,
Womens Fashion
,
Women's Jewellery