Sold Out
Air Humidifier Funeasy Life USB Portable Diamond Bottle Aroma Diffuser Mist Maker For Home Office Or Car Space-Saving Humidifier
Specification:
Name: Bottle Cup Humidifier
Power input: 1.5V
Rated power: 5W

Product size: about 220/140*54mm (8.7/5.5in*2.1in)

Spray amount: 30-40ml/h
Working Hours: 8H
Noise: ≤36DB
Applicable place: Office, Car, Home, Hotel
Occasion: Working, Driving, Yoga, Reading, Sleeping, Traveling, SPA and so on
Feature:
Creative and concise design, make it an interesting decoration

Noiseless and make mist for whole night, provide continuous moisture and relax your mood.

Convenient and easy to use, space-saving and portable, can be used anywhere and any anytime.
A meaningful gift to family, friends, colleagues or business partners.
Package:
1 X Humidifier

2 X Cotton Filter Cotton
1 X USB cable
1 X User Manual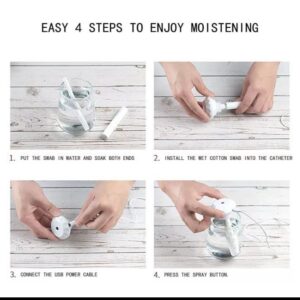 Model:

28269

Weight:

250.00g

SKU:

14007

MPN:

28269

Location:

HCC-KHI

Categories: : Home & Lifestyle
Buy Now !
Generic Imported
Reasons to Buy from BrownBag.pk
آرڈر کرنے میں کسی بھی پریشانی کی صورت ہمیں واٹس ایپ پر میسیج کریں۔ ہمارا نمائیندہ خود آپ کا آرڈر نوٹ کرے گا۔
Fast and Reliable Shipping

We ship all our order in secure packaging withing 24 hours of confirmation.

ہم تمام آرڈر کنفرم ہونے کے بعد فوری کورئیر کے حوالے کر دیتے ہیں۔ جو دو سے پانچ دن میں بحفاظت آپ تک پہنچ جاتے ہیں۔

Best Customer Support

You can reach our customer service team 24/7 by phone, email , whatsapp and social media

Easy Returns

We offer 5 days hassel-free return policy that lets you shop at ease

Always Authentic

We only sell 100% authentic products with 5 days replacement warranty as per T&C*

Cash on Delivery

Cash on Delivery is available all over pakistan even to the remotest places and villages.

Digital Payments

We accept all major credit cards and digital wallets like Jazz Cash and Easy Paisa.

Secure Shopping

Your data is always protected.
Share This Product With a Friend!