Sold Out
Meetion Backlit Gaming Combo Kit 4 in 1 C500
Item No.:

MT-C500
Brand:

MEETION
Color:

Black
Availability:

In Stock
?Description:
LED Backlit Computer Gaming Keyboard Mouse and Headset Combo

? Features??

Meetion C500?Gaming Keyboard Mouse and Headset Combo?4 IN 1 ?
?Gaming Keyboard?
1) Colorful backlit with breather.?? 2) Comfortable and soft keys, Suitable for gamers
3) Error-free running time, strokes: more than 10 000 000.?? 4) 19 keys anti-ghosting
5) Compatible with Windows XP/Vista/7/8/10, Mac OS.??? 6) 12 Fn shortcut buttons for Multimedia, Internet, etc.?? 7) Gold plating USB Interfac?".
??Gaming Mouse?????
1) Variable highlight.?? 2) Ergonomic symmetric design for Right/Left hand.?? 3) Soft touch, Two additional navigation buttons (Forward and Back).?? 4) Precision optical sensor? A704.?? 5) DPI switch,resolution: 800/1200/1600/2000.?? 6) Error-free running time, strokes: more than 3,000,000.?? 7) OS compatibility: Windows XP/Vista/7/8/10.?? 8) Number of keys: 7 + 1 (scroll wheel).??Gaming Headpset
1) Comfortable leather ear covers.?? 2) Adjustable leather headband.?? 3) High fidelity sound quality stereo unit: Speaker unite ?40mm, Sensitivity 110db, Impedance 32?, Frequency 20Hz~20KHz.?? 4) High sensitivity microphone: Sensititivity -58dB?3dB, Omini-directional, input power 50mW. Volume controller.?? 5) 2*3.5mm stereo audio connector.

??Gaming Mouse Pad
Cloth surface for high performance. Non-slip?natural rubber back. Optical-friendly mouse pad for improved tracking. Dimensions: 320*240*5mm. Weight: 150g.

? Product Display?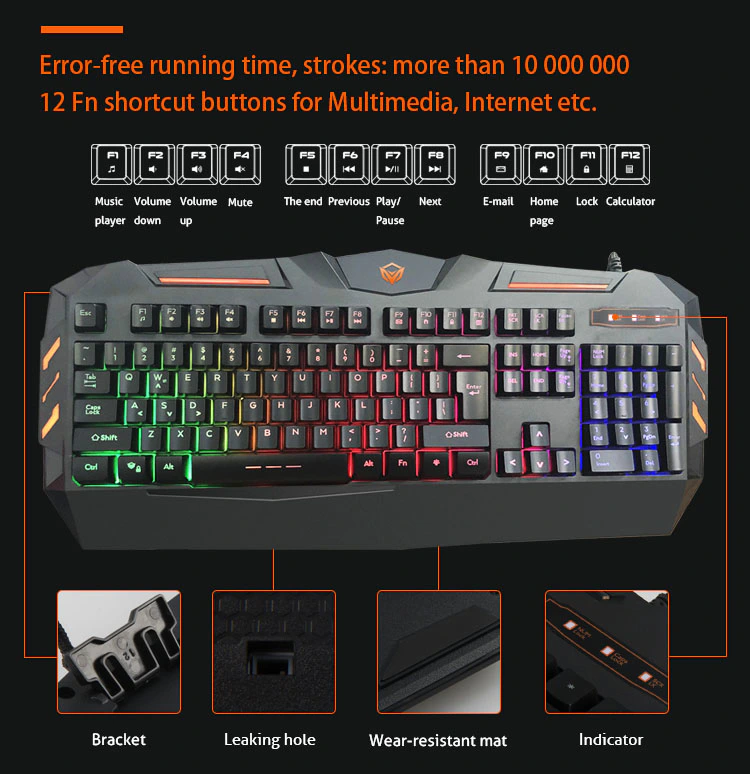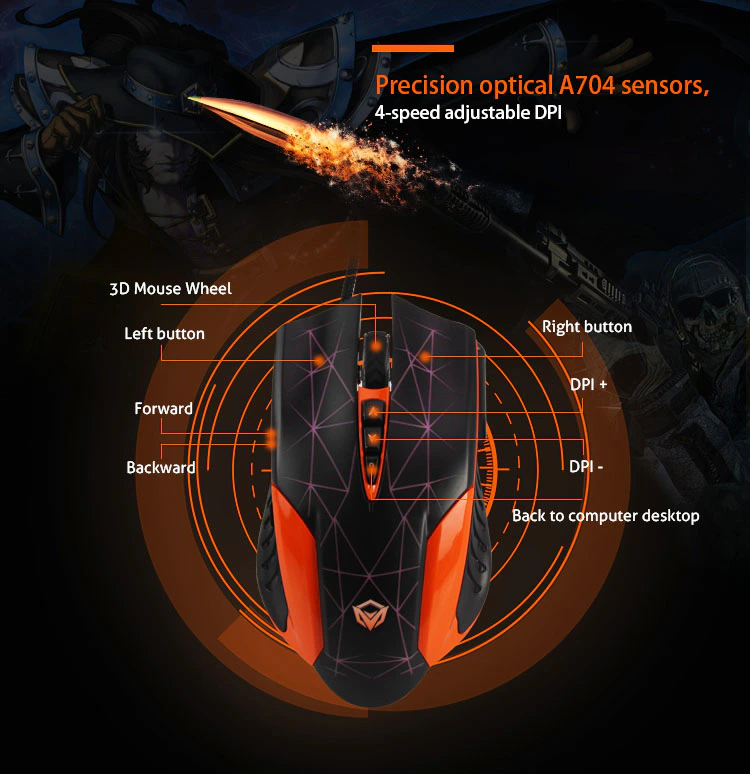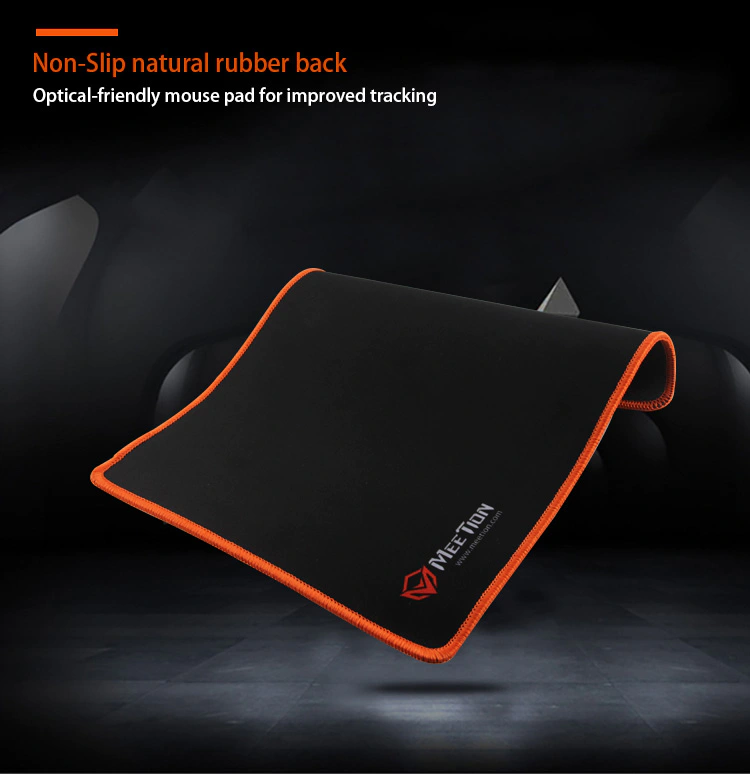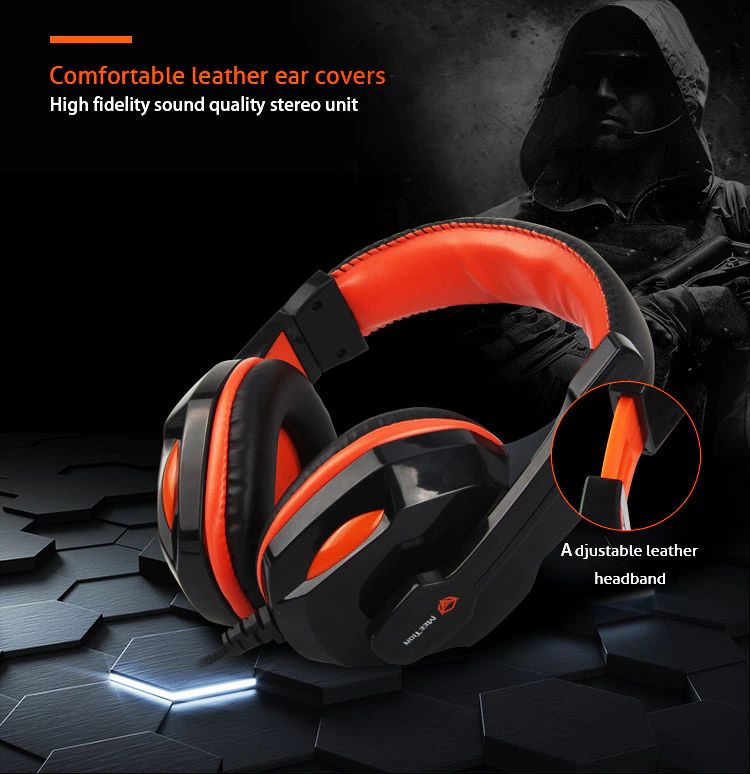 ? Parameters??

Keyboard Specifications
Mouse Specifications
Gaming Stereo Headset Specifications
Q-ty of keys
104/105
Q-ty of keys
7+1 buttons
Color
Black
Keyboard layout
US/ARA/ESN/RU
Resolution
800/1200/1600/2400dpi
Speaker
?40n
Q-ty of shortcut buttons
12
Maximum frame rate
4000 fps
Sensitivity
120?3db
OS Compatibility
Windows XP/Vista/7/8/10
Maximal tracking speed
30ips
Impedance
32?
Error-free running time
More than 10 million times
Maximum polling rate
250Hz
Frequency response
10-20,000Hz
Interface
USB
Maximum acceleration
8g
Microphone
Omni-directional
Wire length
180cm
Wire length
180cm
Mic unit diameter
?6.0?5.0mm
Dimensions(W*H*L)
approx: 480*218*38mm
Dimensions(W*H*L)
approx: 130*73*45 mm
Mic Sensitivity
-56?2db
Interface
?3.5mm stereo jack
Cable length
2?0.01m
| | |
| --- | --- |
| brands | Meetion |
| Warranty | 1 Year |
Buy Now !
Generic Imported
Reasons to Buy from BrownBag.pk
آرڈر کرنے میں کسی بھی پریشانی کی صورت ہمیں واٹس ایپ پر میسیج کریں۔ ہمارا نمائیندہ خود آپ کا آرڈر نوٹ کرے گا۔
Fast and Reliable Shipping

We ship all our order in secure packaging withing 24 hours of confirmation.

ہم تمام آرڈر کنفرم ہونے کے بعد فوری کورئیر کے حوالے کر دیتے ہیں۔ جو دو سے پانچ دن میں بحفاظت آپ تک پہنچ جاتے ہیں۔

Best Customer Support

You can reach our customer service team 24/7 by phone, email , whatsapp and social media

ہماری کسٹمر سروس ٹیم ہمہ وقت آپ کی دسترس میں ہے۔ ان سے فون، واٹس ایپ، ای میل اور سوشل میڈیا پر بلا جھجک رابطہ کریں۔

Easy Returns

We offer 5 days hassel-free return policy that lets you shop at ease

ہماری 5 دن کی آسان ریٹرن پالیسی کی بدولت بے فکر ہو کر سامان خریدیں۔

Always Authentic

We only sell 100% authentic products with 5 days replacement warranty as per T&C*

ہماری تمام پروڈکٹ 100 فیصد اصلی اور معیاری ہوتی ہیں۔ اسی لیے ہم پانچ دن تک کی وارنٹی دیتے ہیں اپنی پالیسی کے مطابق۔

Cash on Delivery

Cash on Delivery is available all over pakistan even to the remotest places and villages.

تمام پاکستان میں کیش آن ڈلیوری کی سہولت مہیا کرتے ہیں۔ بے شک آپ کسی دور افتادہ گاوں میں بستے ہوں یا بڑے شہر میں۔ یہ سہولت سب کے لیے ہے۔

Digital Payments

We accept all major credit cards and digital wallets like Jazz Cash and Easy Paisa.

ہماری ویب سائیٹ پر تمام ڈیبٹ اور کریڈٹ کارڈ، جاز کیش، ایزی پیسہ اور بنک ٹرانسفر کے ذریعے ادائیگی کی جا سکتی ہے۔

Secure Shopping

Your data is always protected.

آپ کی پرائیویسی ہمارے لیے نہایت اہم ہے اور ہم آپ کے ڈیٹا کی حفاظت یقینی بناتے ہیں۔
Share This Product With a Friend!